For the Good of Mankind?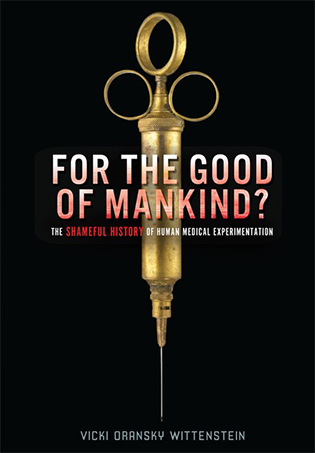 Vicki's nonfiction young adult book, For the Good Of Mankind? The Shameful History of Human Medical Experimentation (Twenty-First Century/Lerner, October 2013), was a Spring 2013 Junior Library Guild selection.
From The Jacket Flap
Experiment: A child is deliberately infected with the deadly smallpox disease without his parents' informed consent.
Result: The world's first vaccine.
Experiment: A slave woman is forced to undergo more than thirty operations without anesthesia.
Result: The beginnings of modern gynecology.
Experiment: From 1946 to 1953, seventy-four boys are fed oatmeal laced with radioactive iron and calcium.
Result: A better understanding of the effects of radioactivity on the human body.
Experimental incidents such as these paved the way for crucial medical discoveries and lifesaving cures and procedures. But they also violated the rights of their subjects, many of whom did not give their consent to the experiments. The subjects suffered excruciating pain and humiliation. Some even died as a result of the procedures. Even in the twenty-first century—despite laws, regulations, and ethical conventions—the tension between medical experimentation and patient rights continues.
How do doctors balance the need to test new medicines and procedures with their ethical and moral duty to protect the rights of human subjects? What price has been paid for medical knowledge? Can we learn from the mistakes of the past?
Take a harrowing journey through some of history's greatest medical advances—and its most horrifying medical atrocities. You'll read about orphans injected with lethal tuberculosis and concentration camp inmates tortured by Nazi doctors. You'll also learn about radiation experimentation and present-day clinical trials that prove fatal. Through these stories, explore the human suffering that has gone hand in hand with medical advancement.
Writing For the Good of Mankind?
When Vicki first began researching For the Good of Mankind?, she knew very little about the history of human medical experimentation and the important role experiments play in the advancement of medicine.  She was disturbed to learn about the vulnerable people throughout history who were subjected to experiments simply because they were easy prey, such as the poor and uneducated, the mentally ill, prisoners, and African Americans.  In fact, the sheer volume of instances where experiments had gone awry presented Vicki with many challenges.  How could she limit the number of experiments in the book?  At the same time, how could she impress upon readers the value and importance of safe testing for the development of cures and treatments?
Vicki researched the topic for over a year.  She interviewed several renowned bioethicists.  She also spoke to Eva Kor, a twin who was subjected to Nazi experimentation while imprisoned at Auschwitz, and who founded the CANDLES Holocaust Museum and Education Center in Terre Haute, IN.  Vicki read many books, journals, newspaper accounts, and primary source materials, which helped in recounting this remarkable history.
Today DNA sequencing, stem cell research, and genetic therapies hold great promise for cures and treatments of serious medical conditions.  But these break-throughs will continually challenge our moral sensibilities and raise issues of individual privacy.  Vicki hopes that young people—the future world leaders in government, medicine, and science—will question and discuss the ethical dilemmas raised, learn from history, and never place the advancement of science above respect for humanity.
Reviews
"This chilling narrative exposes the history of human medical experimentation, much of which has occurred in the United States. By examining the use of humans as guinea pigs in medical research since the 1700s, Wittenstein explains the evolution of modern regulations, review boards, and organizations focused on ethical treatment of patients and approved research procedures. While the exploitation of unsuspecting orphans and pregnant women or intentionally withholding established medical cures from sick patients may seem gruesome, the narrative is successful at presenting both sides of the issue: the patient whose rights are being violated and the doctor intent on furthering science. Of particular note is the discussion of stem-cell research, which brings these historical medical controversies to light in a modern setting. The black-and-white photographs present a human face to these experiments and, if used in the classroom, this title will spark an educated debate. A 'Critical Analysis' section presents questions for readers to consider and discuss while sources for additional information list print, media, and websites that will appeal to a wide variety of readers. This title is an important addition to public and school libraries. It will pair well with books on topics ranging from medicine and history to human rights and law."
"Readers may think twice about going to their next doctor appointment after reading this creepy, unsettling account of human medical experimentation.

In a dramatic, engrossing narrative, Wittenstein describes many cringe-inducing examples of the ways doctors have exploited the marginalized, powerless and voiceless of society as human guinea pigs over the centuries. African-Americans, indigenous peoples, concentration-camp inmates, orphans, prisoners, the poor, the mentally ill and disabled have been subjected to injections of lethal diseases, ingestion of radioactive materials, exposure to poisons, surgical procedures and other horrors. Some experiments did lead to important discoveries and breakthroughs, but readers are challenged to consider the costs of violating individual rights for the cause of advancing medical knowledge. Drawing on a variety of sources, including contemporary newspaper articles, medical journals and, in at least one case, a personal interview, the author lays out this troubling history. She also documents the evolution of medical ethics and the establishment of procedures for things like clinical trials for new drug treatments. Sidebars offer additional information, filling in the cracks on related issues such as eugenics and thalidomide babies. Photographs, some not particularly well reproduced, illustrate the account.

A harrowing, often gruesome, exploration of some of the darkest moments in medical history."
"More than just a historical treatment of human experimentation, this title also offers an introduction to timely related issues involving biospecimens, stem cell research, and genetic enhancement. Archival photographs of test subjects, including prison and concentration camp inmates, accompany chilling tales of torturous experimentation. How do 'respect, beneficence, and justice,' as described in the U.S. Department of Health and Human Services' Federal Policy for the Protection of Human Subjects, and 'The Common Rule' that department published in 1991 fit with the ongoing practice of using humans as guinea pigs? Writing from a mindful, balanced perspective, Wittenstein keeps the essential ethical questions about rights of the individual, the advancement of science, and the evolution of informed consent in clear view. Chapter notes offering further critical analysis focus mainly on bioethical issues, while the source notes, a selected bibliography, lists of additional resources, and an index extend this substantive, informative resource. Researchers may find additional suggestions for further exploring the topic on the publisher's website."